JazzTree Education-"Don't lose the groove"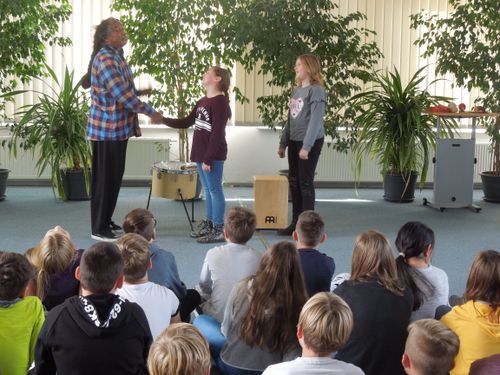 Discovering the JazzTree –ONE DAY WORKSHOP 
Project Description 
Discovering the Jazz Tree is a one-day workshop, developed by esteemed Jazz musician Richard Howell, that teaches the history of Jazz through the active engagement of students in the creation of music and participation in improvisational activities. 
In the Discovering the Jazz Tree workshop, Richard takes students on a journey through history, 
Focusing on African and African American experience as related to music. The workshop is divided  into three parts: 
     • An overview of the broad field of black music 
     • Development of black music in North America 
     • Focus on black music of the 20th century 
Philosophy and Goal 
If you don't know history, you don't know anything—you are a leaf that doesn't know it is part of a tree. Richard's goal is to share the rich history of Jazz and reveal the positive influence its legacy has had on the lives of each generation including contemporary culture. Thus, through his teaching the history of Jazz, Richard aims to share an important cultural influence, connecting us to each other and, ultimately, to our planet. 
Strategy 
In his workshop Discovering the Jazz Tree, Richard provides students the opportunity to actively participate in the lesson being taught. He encourages students to improvise and create music on the spot, enabling them to learn concepts, apply information, and represent their knowledge in a variety of ways. All students participate—the shy, the cool, and the angry—everyone comes together and makes music. This essential component increases student engagement and makes the lesson a collaborative effort between students and the teacher. 
Methods 
As an educator, Richard creates a comfortable and relaxed learning atmosphere. There is space for humor and spontaneity but also for reflection and concern. Students feel confident and secure in this safe environment inspiring them to contribute to the activities that he offers: moving, singing, improvising in whatever way they feel comfortable. 
Biography 
Richard has been a musician and educator for over 30 years. He has contributed his skills to the recordings and performances of emerging artists, established icons such as Etta James, B.B. King, Chaka Khan, Ray Charles and Carlos Santana as well as developing his own prestigious projects. His energetic and expressive musicianship clearly communicates the passion for the unique, indigenous American art form of Jazz. Richard is now focusing his energy on sharing his musical knowledge and skills with youth to encourage connection and understanding among all communities.  He has shared JazzTree Education to just under 200,000 young students worldwide, It is all based on Love!